Hello, Liz  here today and I am going to share with you a few projects I made using the adorable Lovely Day collection.
First off, I have a layout to share of my youngest son. You can tell by the look on his face that he's trouble with a capital T. ;)
The cloud paper worked great for my photos of my son near the lake,
Supplies used: Lovely Day Seeds Of Happiness, Let the Sunshine, Easy Breezy, Chocolate and Chiffon, Raspberry and Aqua, New Story, Cardstock Sticker sheet, Glitter Alphabet Stickers (Lake), Mini Alphabet stickers (Fog).
Below is the card I created using a few stickers from the Lovely Day sticker sheet asthemain focus.
Supplies Used: Lovely Day Cardstock Sticker sheet, Easy Breezy, Let the Sunshine, Sweet Memory.
And finally I found a simple paper ma she box at my local thrift store.
I covered it with Lovely Day papers and roll-up flowers. Inside I cut scraps into strips and crumpled them up a bit. This would be a nice treat holder for someone special.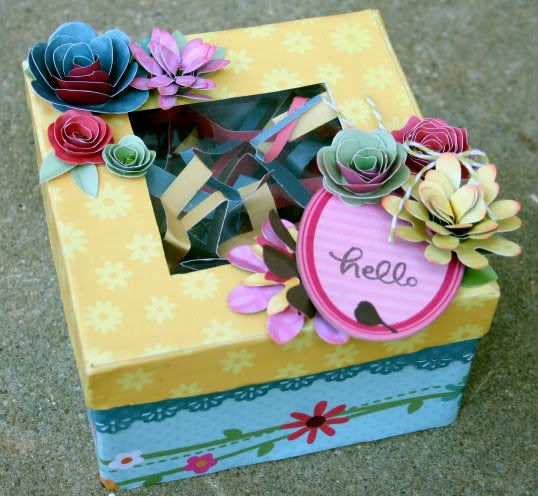 Supplies Used: Lovely Day Seeds Of Happiness, Let the Sunshine, New Story, 3D Roll-Up Flower Sheet. That's all for today. Have a Lovely Day!! ;)